Frequently Asked Questions
BUYERS MOST FREQUENTLY ASKED QUESTIONS
SELLERS MOST FREQUENTLY ASKED QUESTIONS
Still Have A Question? Ask Us At auctioninfo@amgre.com
BUYERS MOST FREQUENTLY ASKED QUESTIONS
Q. How do I participate in a Real Estate Auction?
A. Decide that you are interested in the Property by requesting a Flyer and the Terms of Sale that details the requirements for bidding. Then proceed to investigate the property and decide on how much you are willing to pay for the Property in a competitive bidding situation with others like yourself.
Q. Will I need a loan?
A. The Terms of Sale will inform you about financing. If you require a loan to buy the property, choose either the recommended lender, if there is one, or your own mortgage lender and pre-qualify yourself for a dollar amount.
Q. How do I evaluate the real estate?
A. Attend an Open House to inspect the property to see if it meets your approval. Also, acquire the Property Information Package.
Q. What will I have to sign if I win?
A. Request a Purchase and Sale Contract for your review. You will sign it if you win.
Q. What happens on auction day?
A. Arrive one-half to one hour early on auction day to register to bid. Bring a Cashiers Check in the correct amount and made payable as instructed, in order to bid. The winning bidder will be required to sign the Purchase and Sale Contract immediately following the auction.
Q. How will I know it is fair?
A. The bids will be called clearly, and each bid will be verified by the Auctioneer or a Bidder's Assistant. You will have the confidence of knowing that you paid only one bid increment over the next bidder that was also willing to step up and sign the contract.
Q. When will I have to close?
A. The winning bidder will usually have up to 30 days to submit funds from a lender or personal resources to close escrow; the Terms of Sale for the property will have the specific requirements. It is important for the winning bidder to understand he must close in 30 days from the auction date or forfeit his deposit.
SELLERS MOST FREQUENTLY ASKED QUESTIONS
Q. What services does AMG offer?
A. AMG is a full service real estate company offering Auction and Conventional brokerage services as well as Consulting and Receivership services.
Q. What method should I use to sell my property?
A. AMG experienced staff will evaluate your real estate, your needs and objectives, and then we will recommend what action to take that best suits you.
Q. Why should I consider selling my property using the AMG Real Estate Auction method of marketing?
A. An auction gives the Seller control over when your property sells, and control over how it sells. You set the specific dates, terms and conditions.
Q. What types of real property does AMG specialize in?
A. Our staff of trained experts has experience in brokering, consulting and receivership for all types of real estate including residential, commercial, retail, multi-family and land.
Q. If I choose the auction process, many people think a Real Estate Auction is for "troubled" real property assets but I have no problems?
A. The auction method of selling has become an alternative sales tool for many Sellers. They know this method is time-date certain and forces the buyers to compete with each other, not with the Seller.
Q. Can I see one of your Real Estate Auctions as part of my evaluation of AMG?
A. Yes. We will tell you when and where upcoming auctions may be attended. We also have auctions on DVD that you may view. See Us In Auction
Q. What are the fees associated with AMG services?
A. Fees are dependent on the chosen service. Call us and we will be pleased to discuss them.
Q. Why should I consider AMG?
A. The Accelerated Marketing Group is a national company with capabilities in many facets of real estate auctions, brokerage and service. We have over 30 years experience and a track record of success for private individuals, corporations and government agencies.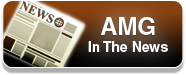 Recent News:
Accelerated Marketing Group (AMG) Recognized by California State Auctioneers Association (CSAA)
Read More >>