A & A HORSE RANCH
CALL FOR OFFERS!!!
December 31 11:00am
$2,950,000
619-992-5000
Single Family
4 PARCELS-20+-40+
20+, 20+, 20+ Improvements and 40+ ac sites
Sat-Sun 11 noon-3pm or by appointment
LOCATE ON MAP
Description:
OFFERED IN FOUR PARCELS:
Parcel 1-20+ac-Reserve $80K-SOLD!
Parcel 2-20+ac-Reserve $80k-SOLD!
Parcel 3-20+ac/All Improvements-Reserve $600k
Parcel 4-40+ac-Reserve $240k

In the heart of Door County is this marvelous 101-acre gated equestrian estate.
The property has wonderful wooded trails for riding, open pastures for grazing,
a horse playground for exercise & outdoor training, and indoor & outdoor arenas.
The stable includes eight state-of-the-art horse stalls, tack room, washing & grooming
stalls, feed room, as well as a comfortable lounge with a kitchen, dining & office areas,
bathroom with shower, & laundry. While very comfortable for humans, every detail of
the ranch was expertly planned to accommodate the horses in a natural environment.
The stalls, with their cushioned rubber flooring, floor drains, and continual fresh water
supply, open directly onto the paddock and beyond to the 140x80 foot Cover-All
enclosed riding arena. The pastures are planted with a perfect mixture of grasses.
A 2-bedroom and 2-bathroom ranch house with a 2-car garage is part of the property.
Also included are a heated mechanical & workshop garage and a hay/grain building.
A conventional septic system, private well, and underground utilities serve the property.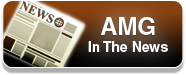 Recent News:
Accelerated Marketing Group (AMG) Recognized by California State Auctioneers Association (CSAA)
Read More >>